Allegiance Ranch and Equine rescue is blessed with an amazing volunteer community that helps maintain the ranch, care for the rescues, and assist with providing our veteran and first responder programs. We could not do what we do without them! As we head into our fifth year of operation, we're grateful to have been able to hire part-time help, and as we grow, we look forward to hiring more staff to enhance our programs and make an even bigger impact on the veteran and first responder community.
Meet Emerald Smith
Emerald was born and raised in Colorado and has always enjoyed working outdoors with animals. She got her first job walking dogs at twelve years old and at fourteen, began working at a local farm. She graduated in spring of 2021 with her Bachelor's degree in Illustration from the University of Colorado, Denver and is pursuing a career in freelance illustration.
Emerald began volunteering at Allegiance Ranch in January 2020 and has since been riding and learning horsemanship and training skills. She now works at Allegiance Ranch as a ranch employee and runs weekly volunteer hours. She always brings her camera to work with her, filming and photographing Colorado's ranch life and shedding light on the work that goes into raising and rescuing animals.
In addition to assisting with ranch maintenance, caring and feeding the rescue horses, and training and overseeing volunteers, Emerald shares her Illustration and photography talents by creating visual design work for Allegiance Ranch brochures, merchandise, and social media.
Meet Gaby Timmons
Gaby, along with her family, is a founder of Allegiance Ranch and Equine Rescue. A Colorado native, she came to love animals at an early age and was introduced to horses through horse camps as a little girl. After hanging around the barn where her sister participated in equine therapy, Gaby got hooked on horses in earnest and began taking riding lessons. After leasing a sweet, senior Morgan gelding named Conrad for several months, she and her sister convinced their parents to get their own horses. Gaby found her heart horse, Montez, through a rescue organization and the family's journey to help heroes and horses began.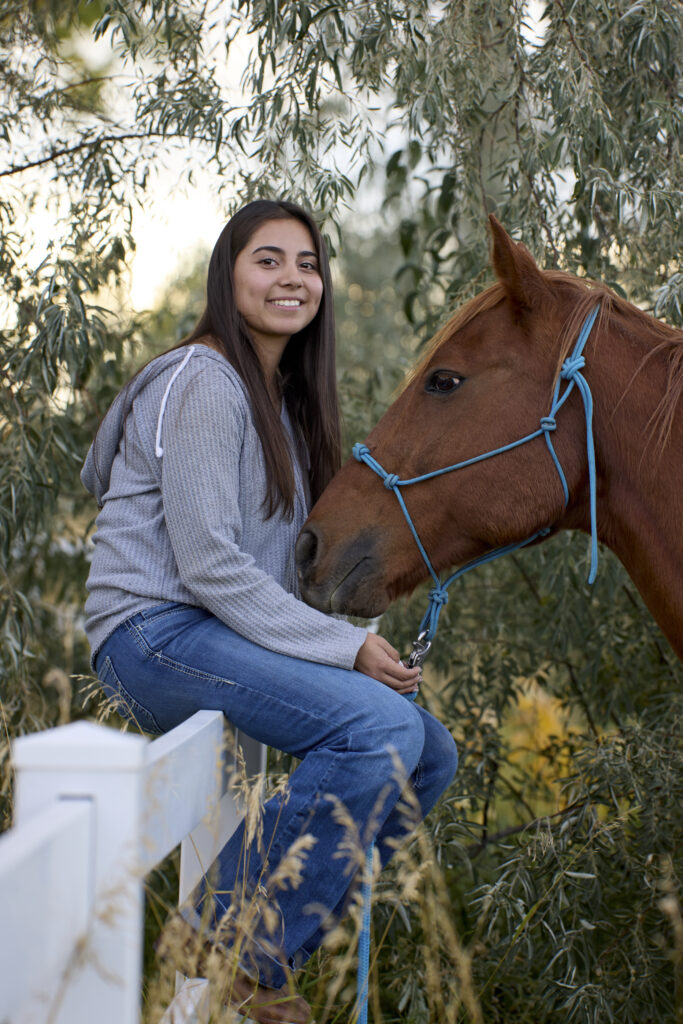 Gaby has volunteered her time since Allegiance Ranch was founded in 2017, feeding, caring for, and assisting with training the horses. She has also been active in volunteer training, at horsemanship clinics, and with organizing events and fundraisers. Gaby just completed her first year at the University of Montana Western where she's studying ranch operations and natural horsemanship.