This is the place we introduce the wonderful members of our Allegiance community who help make our mission to help horses and heroes possible. Today we're introducing Lori Lindemann. Lori found us in 2018 and came out to orientation in July that year. We immediately loved her energy, warmth, and love of the horses. Family commitments and the pandemic kept her away for a bit, but she came back in earnest in 2021. Lori devotes most Wednesday mornings to the ranch where she helps with feeding, mucking, grooming, and whatever else needs doing! Working alongside Emerald Smith and Karen Methfessel, Lori makes up one of the members of what we call our Wednesday Morning Dream Team. She also represents the ranch at events, most recently Wreaths Across America and the National Western Stock Show. Given Lori's effervescent personality, willingness to lend a helping hand, and her 27 years of experience volunteering with organizations supporting people and horses, we are grateful to have her as a member of our volunteer community.
What initially drew you to Allegiance Ranch? I was initially drawn to Allegiance Ranch and Equine Rescue because they support two things I've been very passionate about throughout my life…Heroes and Horses. I am honored to support those who keep, have kept, our country safe and free and the first responders who protect and serve all of us daily. Additionally, to rescue a horse, give it a wonderful, magical place to call home, love it, support it in trusting humans again…well…really do I need to say any more?!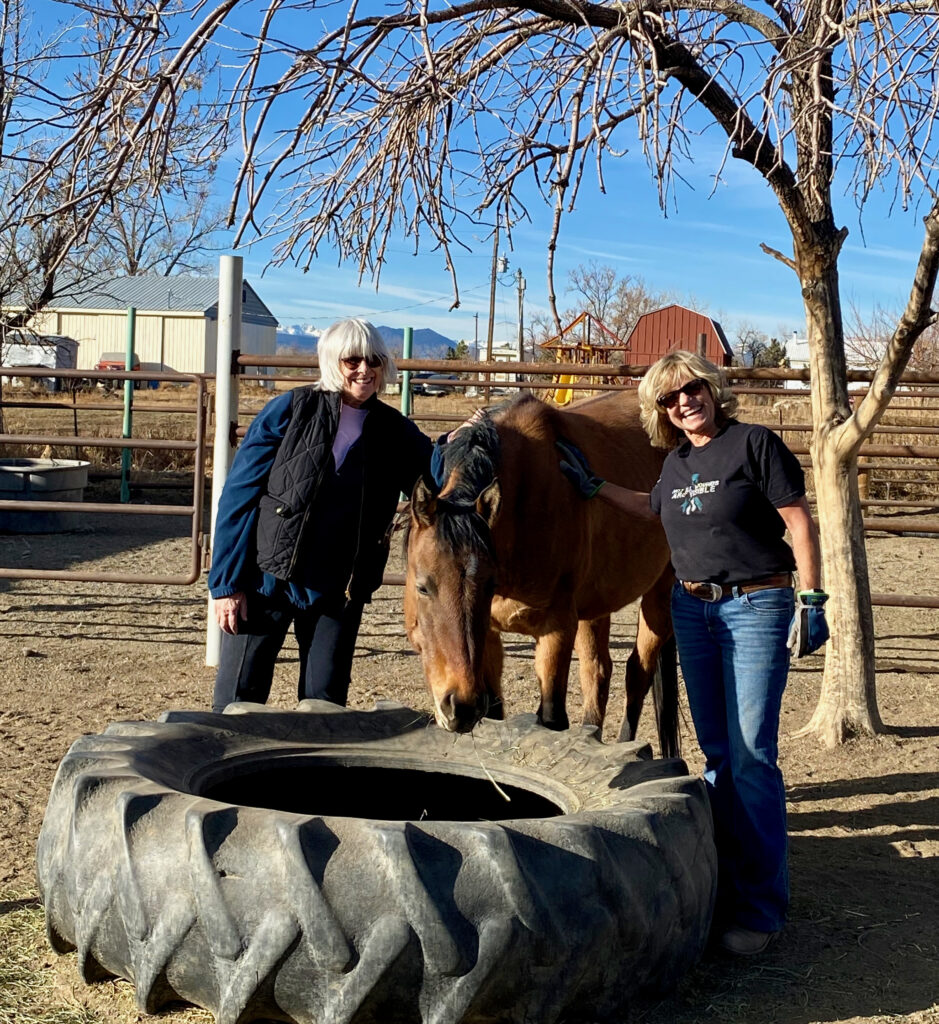 What do you find most meaningful or enjoyable about volunteering your time at the ranch? The most meaningful and enjoyable part of being a part of the Allegiance Ranch and Equine Rescue team is far and away the people who founded it, Dan and Gloria, and their daughters Marissa and Gaby. They had a vision, a mission, and it's an honorable, remarkable one that I can so easily align myself with. As remarkable as they are, so are the staff and volunteers I've had the good fortune to meet, work along side, get to know. They are the type of people who become family quickly. All working together to support our organization and everyone and everything there. Ego's don't exist out there. True respect, desire to teach, desire to learn, friendliness, professionalism are some of the ways I can describe "us"!
Do you have a favorite rescue horse? Honestly, I LOVE every animal out there. I love the horses, mini horses, mini donkeys, goats, chickens, cats, dogs, the hawks that soar and screech above, the eagles gliding through the skies, the geese honking as they fly along…they're all my favorite!
What would you tell someone who's thinking about volunteering at the ranch? I hope that anyone who has the gift of time to share, will come out and see for themselves the heaven on earth that I have found. My family and friends tell me that my smile isn't ever as big as when they see me (photos) out at Allegiance Ranch and Equine Rescue. It's a place that you can volunteer with no skills other than a willingness to learn, support heroes and horses. There are many things a person can do to support this organization besides working directly with the animals, although that's my main "thing". Dan and Gloria can speak to other opportunities for volunteering. There is something at Allegiance Ranch and Equine Rescue for everyone, I believe. I have never been more fulfilled, and have the expectation of continuing to learn and support this organization forever.